So we've lost the Human Torch (Johnny Storm) and the Fantastic Four is no longer an applicable team name. While we now know that Spider-Man and a slew of others will be teaming up with the remaining members, who have decided to become the Future Foundation, it is clear that the surviving members of the group feel that it's no longer fantastic with Johnny gone. But what if the brass at Marvel decided to go another direction with this story?
In a world where the Fantastic Four is not just a name but a brand, investor pressure could force Reed, Sue and Ben (Mr. Fantastic, Invisible Woman and Thing, respectively) to attempt to keep their public image intact (this assumes that Reed doesn't privately own the company, which I'm pretty sure he does, but play along anyway). There is a candidate who would be available to step in, after all: the original Human Torch (Jim Hammond).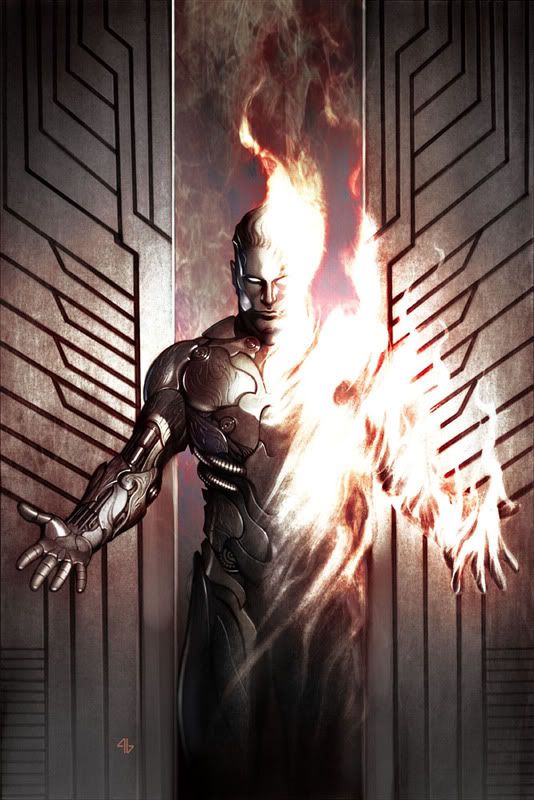 Heck, he's even blond like Johnny was! That'd be perfect for cereal boxes and the like. All they'd have to do is say that Johnny grew up to explain how the handsome young man is suddenly just a handsome regular man. Since he's an android, it would most certainly lead to an A.I.-like storyline when Johnny inevitably returns from the "dead" (I'm gonna put this in quotations because we never actually see him offed), with the possibility of a sibling rivalry/jealousy thing going on. Just think of the dramatic tension when the rest of the team has to break it to him that the robot just does the job better and sells more toys to the coveted 6-13 male market, what with being a robot and all…
Of course, hampering things might be the fact that every time Jim yells out the trademarked "Flame on!" , somebody else will fall upon their knees screaming "OH GOD, JOHNNY'S DEAD!" while he flies off, a constant reminder that their family is shattered…
But hey, at least they'd still be the Fantastic Four!